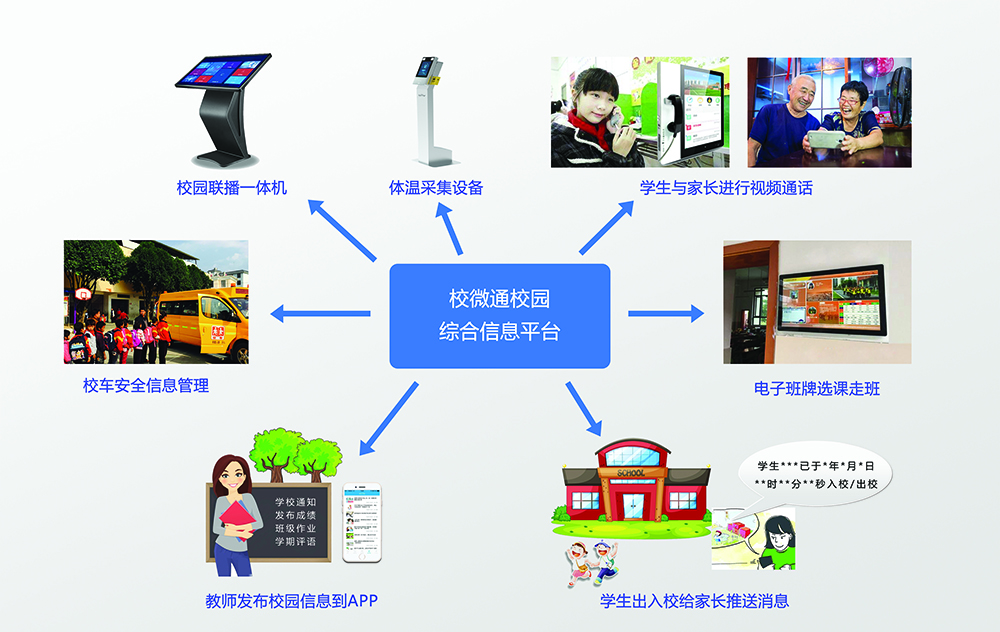 Platform Introduction
  With the gradual deepening of the digitization and informatization construction of the campus, in order to solve the various security risks of primary and secondary school students entering and leaving the school, parents cannot accurately obtain the information of students entering and leaving the campus, and students cannot communicate with parents in time in the school. "Weitong Smart Campus Management System" uses information management methods, Internet technology, and remote RFID wireless identification technology to realize the timely delivery of student access information to parents, students use the terminal to contact parents at any time, student presence and school information in a timely manner Push and other functions. The establishment of interactive communications between schools, parents and students has improved the normal and orderly teaching order and the safety management of students at school.
Platform Architecture
Full-featured
It covers all aspects of school teaching, management and life, and is compatible with all kinds of school hardware equipment.
Reliability and stability
The system equipment selection, network design, software design and other aspects are fully considered. The data is safe and reliable, the program runs smoothly, the operation is intuitive and easy to understand, and the system is stable.
Compatibility and scalability
The overall structure of the system is structured, with good compatibility and scalability. It can be used either stand-alone or networked. The system manages the management authority in a hierarchical manner and has higher confidentiality and security.
Humanized management
Each student can be equipped with multiple parent APP client ID accounts, which are allocated to fathers and mothers, making parents more secure, convenient and accurate to grasp student information.