In order to fully understand the completion of the key tasks of the 12th Five-Year Plan for Education Informatization, promote the implementation of the "Outline of the National Medium- and Long-Term Educational Reform and Development Plan (2010-2020)" and the "Ten-Year Development Plan for Educational Informatization (2011-2020) ")", Do a good job in the "13th Five-Year" education informatization work, according to the spirit of the second national video and telephone conference on education informatization work, the State Council Education Steering Committee Office issued in March "On the development of education informatization work special supervision and inspection "Notice" to carry out special supervision and inspection of education informatization nationwide. This inspection requires all localities to carry out self-inspections with regard to the importance of promoting informatization of education, institutional mechanisms, policy measures, key tasks, improvement of teachers 'ability to apply information technology, and information technology security. From June 28th to July 5th, the Office of the State Council 's Education Supervision Committee organized the State Supervision, the relevant departments and experts of the Ministry of Education to form 4 supervision groups to Liaoning, Heilongjiang, Anhui, Hubei, Hunan, Chongqing, Qinghai, Xinjiang, etc. 8 Several provinces (autonomous regions and municipalities) carried out on-site supervision and inspection. The supervision team listened to the work reports of the 30 county (city, district) governments, spot-checked 176 schools (including teaching points, county, township, and village primary schools, junior high schools, high schools, and vocational schools), and listened to the opinions and comments Suggest. The relevant situation report is as follows.
1. Great achievements in education informatization
All localities are closely centering on the strategic deployment of national education informatization, continuously accelerating the construction and application of "three links and two platforms", gradually improving the basic supporting environment of education informatization, and comprehensively promoting the deep integration of information technology and education and teaching. 23 provinces have basically established a public service platform for educational resources, and 15 provinces have fully or basically completed a provincial education data center. The application of informatized teaching has been basically popularized. Cases of integration and innovation are constantly emerging. An information technology security system has been initially established to cover urban and rural educational information. The preliminary formation of the chemical system.
(1) The school network teaching environment has been greatly improved
1. The coverage of "Broadband Network School-School Communication" has been further expanded. As shown in Figure 1 and Figure 2, as of June 2016, the proportion of Internet access in primary and secondary schools nationwide was 87.5%, an increase of 5.3 percentage points from 2014. Among them, the proportion of schools with bandwidth above 10M was 64.3%, an increase of 23.3 percentage points from 2014. Provinces such as Beijing, Jiangsu, Shanghai, Zhejiang, Guangdong and Xinjiang Production and Construction Corps have fully realized the school's "broadband network" coverage. The proportion of primary and secondary schools in the country where all classrooms are equipped with multimedia teaching equipment is 56.6%, an increase of 17.4 percentage points from 2014. Zhejiang, Xinjiang and other places have included "school-school links" in the school's basic school-running standards, which has effectively promoted the deployment of information infrastructure. Through cooperation with enterprises, Guangdong and other places have adopted multiple modes such as PPP and BOT to solve the problem of "school-school communication" in primary and secondary schools.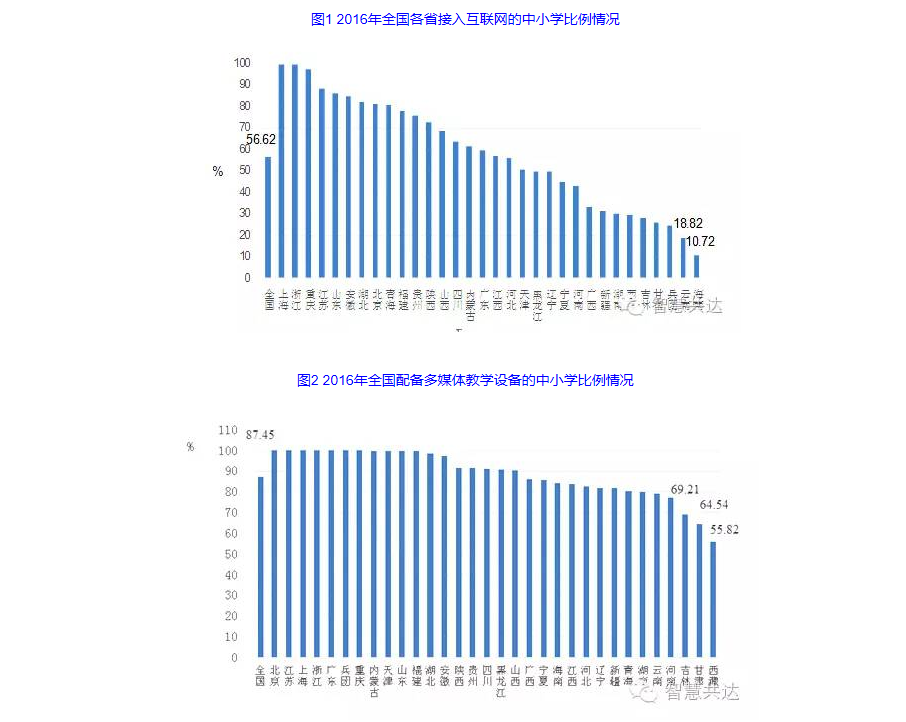 2. The teaching sites have basically achieved full coverage of digital education resources. At present, 64,000 teaching sites across the country have completed the construction of the project "Full Coverage of Digital Educational Resources in Teaching Sites", achieving the equipment in place and resource distribution and teaching applications. Among them, 25,000 teaching points are connected to the Internet, and the remaining teaching points can receive digital education resources through satellite reception and other methods; the teaching points have been equipped with 64,000 sets of multimedia teaching equipment; 345,000 teaching point teachers have received special training for all staff. 72% of teachers have used relevant equipment and resources to carry out teaching.
(2) Basic application of information-based teaching
1. "One teacher, one excellent class, one teacher per class" activities have been widely carried out. All regions take the activity of "one teacher, one excellent class, one teacher for one lesson" as an important starting point, fully mobilizing the enthusiasm and creativity of teachers in primary and secondary schools, promoting the deep integration of information technology and classroom teaching in primary and secondary schools, promoting the reform of educational teaching models and improving the quality of education . From the start of the activity in October 2014 to the end of September 2015, 5.62 million primary and secondary school teachers have participated in the country, with a total of 3.02 million lessons. More than 200,000 people participated in 10 provinces (cities) including Henan, Sichuan, Anhui, Hunan, Hubei, Gansu, Zhejiang, Hebei, Jiangsu, Chongqing, etc., which strongly promoted the popularization of teachers' information-based teaching applications; provincial-level "excellent courses" are recommended everywhere "48,000 halls have realized the gathering and sharing of high-quality digital education resources.
2. "Three classrooms" and other information application models gradually deepened. In accordance with the actual situation, each province has further promoted the innovative construction and application of "Delivery Classes, Teacher Classes, and Online Schools in Famous Schools" to continuously expand the coverage of high-quality resources. Hunan, Hubei and other provinces have adopted "special delivery classrooms" and other models, and used the "center school to drive teaching points" and other classroom pairs to enable children at teaching points and weak rural schools to enjoy high-quality educational resources. Anhui Province has expanded the normal application of online classrooms, covering 1986 teaching points in 59 counties (districts), benefiting more than 200,000 children in remote areas of the province, effectively solving the problem that teaching points cannot be fully opened due to lack of teachers. "The puzzle of the course. Since 2015, Inner Mongolia has promoted the construction and application of "same-frequency interactive classrooms" throughout the region, carried out the same-frequency interactive teaching and teaching among schools, and promoted the balanced development of urban and rural education.
3. Teachers' information technology application capabilities have generally improved. Under the overall guidance of the Ministry of Education, all regions actively promote the training of teachers' information technology application ability. As of June 2016, the proportion of primary and secondary school teachers participating in information technology application ability training nationwide was 73.9%, laying a solid foundation for the widespread development of information-based teaching applications. Guangxi advances in a hierarchical manner in accordance with the training system of "autonomous regions focus on key points, city and county security personnel, and schools re-apply". The Tianjin Elementary and Middle School Education and Teaching Research Office promotes the professional development of teachers by building an online teaching and research platform. The number of registered users of the "Tianjin Basic Education Teaching and Research Network Platform" has reached 74596, accounting for 92% of all full-time teachers.
(3) Cases of integration and innovation continue to emerge
1. The application of online learning space is gradually popularized and deepened. All regions actively carry out the construction and application of "E-learning space for everyone", and the number of teachers and students' real-name online learning space has exceeded 63 million. Jiangsu teachers and students make full use of the online learning space to carry out activities such as mutual aid teaching, online teaching and research, personal learning, independent learning and shared resources; the opening rate of teachers and students' online learning space during the "Twelfth Five-Year Plan" period in Anhui Province increased from blank to 96.0% respectively 77.9%, and add personal growth records and comprehensive quality evaluation content in the student space, and record the growth process at any time through computers, mobile phones, iPads, etc .; Zhejiang Province organized the construction of 1,000 teacher-specific spaces, actively exploring the effective construction and application of online learning spaces Model, leading and promoting the scale, normalization and in-depth application of space.
2. New teaching models supported by information technology are constantly emerging. On the basis of popularization and application, all localities are guided by the concepts of satisfying the diversified and personalized needs of students, improving students' innovative ability and comprehensive quality, and exploring and forming a large number of teaching modes and learning methods supported by information technology. Zhejiang Province has formed a number of typical examples of informatization education teaching models and mechanism innovations such as Hangzhou Smart Education "Rongchuang" Learning Community, Ningbo "Air Class", Wenzhou Maker Education, and Zhenhai One-to-One Digital Teaching. Jiangsu Province has formed typical cases such as Nanjing 's "new three basics" education, Wuxi Perception Classroom, Suzhou Future Classroom, Nantong Smart Education, Taizhou "Thai Micro Class", and Yangzhou 's urban and rural school online pairing. Heilongjiang Province has formed typical cases such as the student-centered "ability-oriented" teaching model of Harbin Xiangbin Primary School and the very "6 + e" teaching and learning basic paradigm based on the curriculum reform of the ninth middle school of Qitaihe.
(4) Initial establishment of network security system
1. The network security responsibility system was gradually established. All provinces generally attach importance to the coordinated development of network security and informatization. Based on the principle of "local management and hierarchical responsibility", a sound "one post, two responsibilities" education network security responsibility system has been established and improved. At present, 30 provinces across the country have established an education network security responsibility system, and 21 provinces have the chief person in charge of the Department of Education as the first person in charge. Guangdong Province established a network security and informatization work leading group to establish "two mechanisms" (that is, the supervision and inspection mechanism and the "one goal" (that is, "reduce general accidents, curb major accidents, and eliminate major and major security accidents"). Long-term management mechanism), build "three systems" (that is, technology protection system, channel management and control system and standard specification system), coordinate and coordinate the planning, construction, application and management of network security and informatization.
2. The network security management and guarantee system is constantly improving. Each province has formulated an education network security plan. 30 provinces have formulated network emergency plans and established working mechanisms for security monitoring, notification, quarterly drills, annual inspections, and performance reviews. Xinjiang has formulated and perfected more than 50 network and information security rules and regulations, established and improved a network and information security assurance organization system, and implemented network and information system security level protection. Ningxia has formulated the "Administrative Measures for Educational Websites (Trial)", established an education system network and information security monitoring and notification working mechanism, and regularly carried out system-wide monitoring and status notification. Shaanxi Province conducts special inspections of the province's education system network and information security every year, builds a provincial education website monitoring platform, and fully deploys education system network and information security incident emergency response work.
3. Network security team building has been strengthened. According to statistics, there are 485 employees of cybersecurity in education administration departments across the country, with an average of 15 people in each province. Some provinces have explored experiences that can be used for reference in setting up technical support institutions and building information technology security teams. Zhejiang Province has fully established a technical team for information technology security work covering provinces, cities, counties, and schools. Schools around the country are basically equipped with professional technical personnel such as network management and security management. The Tianjin Municipal Education Commission clearly stipulated in the document that all units should arrange personnel with certain qualifications to engage in network and information security management, require qualified units to establish a network and information security management full-time team and technical support professional team, and implement post responsibilities and assessment mechanisms .
2. The main methods of promoting education informatization in various regions
During the "Twelfth Five-Year Plan" period, party committees and governments at all levels attached great importance to education informatization, and seriously implemented the "Ten-year Development Plan for Education Informatization (2011-2020)" and Vice Premier Liu Yandong in two national education informatization televisions. The spirit of the important speech on the conference call and the main methods for comprehensively promoting the work of education informatization are as follows:
(1) Strengthen overall leadership and establish a sound management system
1. The leadership system continues to improve. All localities continue to increase overall planning efforts to further establish and improve the education information management system. At present, all localities have established an education informatization leadership group headed by the provincial government leader or the head of the department of education, responsible for promoting the overall leadership of education informatization; the education informatization coordinating organization has been clarified to rationalize the mechanism and smoothly Advance work. Eight provinces including Liaoning, Heilongjiang, and Hunan have established new offices, increased the functions of the original offices and renamed them, and increased the functions of the original offices. They have clarified the functions of education informatization and coordinated the functions of the offices and assigned full-time staff in the local education administration; In 10 provinces, the informatization promotion office or informatization office under the leadership group is responsible for the overall promotion of related work.
2. The mechanism of collaborative advancement and division of labor within the education system was gradually established. At present, 13 provinces have clearly established a collaborative promotion mechanism and division of labor coordination mechanism between functional departments, and the organic integration of the strength of the management department, business department and technical department to smoothly promote the education informatization work. Anhui Province has strengthened the professional leading role of education and research in education informatization, and has established a work organization structure with education administration as the leader, education and research as the main body, and technical equipment as the support. Henan Province has made great efforts to give play to the coordinating role of the administrative department, the guiding role of the teaching and research department, the supporting role of the audio-visual education department, and the evaluation role of the supervision department, forming an informatized management system with strong overall planning, uniform power and responsibility, and clear division of labor. Heilongjiang Province has given full play to its system advantages and has established a working mechanism for the integration of teaching, research, training, and audio-visual education to promote the informatization of basic education.
3. The inter-office coordination mechanism was strengthened. At present, 24 provinces have established an inter-office coordination mechanism between the education department and other offices and bureaus, 16 of which have clearly established an inter-office coordination group, and 8 have formed joint forces through joint documents issued by multiple departments or coordinated with specific actions and projects to jointly promote education. Information work. The five provinces of Zhejiang, Guangxi, Shaanxi, Guizhou, and Qinghai have set up a leading group of education informatization led by government leaders, with education and other departments as members, and promoted the work of education informatization in stages, steps, and layers.
4. Strengthen the overall promotion of education informatization. All regions have continuously strengthened provincial-level co-ordination in project construction and funding, and coordinated efforts to promote education informatization. The Hunan Provincial Party Committee and the Provincial Government included the education informatization work in the overall layout of the province's "four modernization and two types" construction, and wrote it in the "Outline of Hunan Province's Construction of a Strong Educational Province (2010-2020)". The Hubei Provincial Committee included the national pilot of education informatization as a key project for deepening the reform of the province. The provincial government made education informatization one of the two core tasks of deepening the comprehensive reform of education and included it in the "Accelerating the Promotion of Smart Hubei Construction Action" issued by the provincial government. Program (2015-2017). Inner Mongolia and other provinces have clarified the funds needed for basic education school informatization and basic environment construction, and incorporated them into standardized school construction, weak school reconstruction, comprehensive thinning and other projects to solve the problem. Heilongjiang has increased guidance and supervision, coordinated the advancement and improvement of advanced and backward areas and schools, actively coordinated relevant departments and telecommunications companies, and gave priority to solving the broadband network coverage of weak schools in the "Broadband Longjiang" construction plan.
(2) Do a top-level design and clarify task deployment
1. System deployment, clear division of responsibilities. Based on the implementation of the "Ten-Year Development Plan for Educational Informatization" (2011-2020), all regions have strengthened the overall planning and top-level design of local educational informatization based on the local development foundation and current situation. Most provinces regard education informatization as an important content and component of economic and social development and education development planning. Beijing promotes the implementation of actions in the field of "Internet + education" in accordance with the "Implementation Opinions on Actively Promoting" Internet + "Action". Tianjin regards smart education as one of the special construction projects promoted by the "Action Plan for Promoting the Construction of Smart Cities (2015-2017)". Shandong Province clearly put forward the action plan for educational informatization in the "Thirteenth Five-Year Plan for Provincial National Economic and Social Development". 23 provinces have studied and formulated special plans or action plans for education informatization. For example, Heilongjiang Province issued the "Heilongjiang Province" Internet + Education "Action Plan (2016-2020)", and Henan Province issued the "Provincial Education Informatization Ten Year Development Plan (2011-2020)" and other documents to guide the province's education informatization work.
2. Various management measures and policy documents were issued. In order to ensure the concrete implementation of education informatization, all regions have also formulated and improved supporting management methods and policy documents based on planning. Henan, Guangdong and other provinces issued "Opinions on Further Accelerating Education Informatization" and other documents, which initially achieved the goal of construction and development. Tianjin, Shanxi and other provinces have printed and documented policy documents on funding for education informatization construction. Shandong, Hunan, Chongqing and other provinces have issued guidance or implementation plans for the provincial pilot work to support and lead the provincial education informatization pilot work.
3. Establish standards and promote work scientifically. In order to improve the overall benefits of educational informatization, various provincial organizations have formulated a series of informatization construction standards and requirements. At present, 10 provinces including Hunan, Tianjin, Jilin, Heilongjiang, Chongqing, Guizhou, and Henan have clarified implementation plans or standards for advancing the construction of "three links and two platforms". Fifteen provinces including Anhui, Zhejiang, Hebei, and Shanxi have issued technical specifications or standard requirements to guide the informatization construction of primary and middle schools to scientifically lead and standardize the school informatization work.
(3) Innovative promotion mechanism to ensure comprehensive and sustainable development
1. The pilot exploration mechanism was gradually improved. In recent years, provinces have explored and formed a number of educational informatization application methods and models that embody the core concepts and ideas of educational informatization through pilot methods, and gradually formed a work-oriented promotion mechanism. Heilongjiang Province adopts various forms such as policy leaning, financial support, subject involvement, expert guidance, etc. to promote the healthy and orderly implementation of the pilot work. From 2012 to 2015, Hunan Province has invested a total of nearly 70 million yuan to establish 273 provincial education informatization pilot projects, and strengthen the process management of inspection, guidance, and third-party supervision of project implementation. The plan is "Thirteenth Five-Year Plan" During this period, 200 million yuan was invested to organize the implementation of the "10 million" project for information technology innovation.
2. Give full play to the market mechanism and form a benign ecological environment. The provinces have actively established a government-led and enterprise participation mechanism. The government and the market complement each other and coordinate the promotion of a new pattern of education informatization. Most provinces have signed cooperation agreements with the three major operators of China Mobile, China Unicom and China Telecom to jointly promote education informatization. Jiangsu Province issued the "Notice of the Provincial Department of Education on the Establishment of Jiangsu Province Intelligent Education Industry-Education Union", actively playing the respective advantages of government departments, enterprises and other social forces, driving and guiding social institutions and industrial forces to participate widely. Zhejiang Province actively explores multi-party investment mechanisms such as "enterprise participation" and carries out multi-form cooperation with enterprises and other social forces in infrastructure construction, digital resource construction, education management informatization, teacher and student information technology capability improvement, and provincial education data centers .
(4) Implement funding guarantees and establish a supervision and evaluation system
1. Implement the main responsibility of the government and increase the investment steadily. Local governments have actively coordinated funding channels, continuously increased support for education informatization, and implemented funding guarantee mechanisms. One is to establish clearly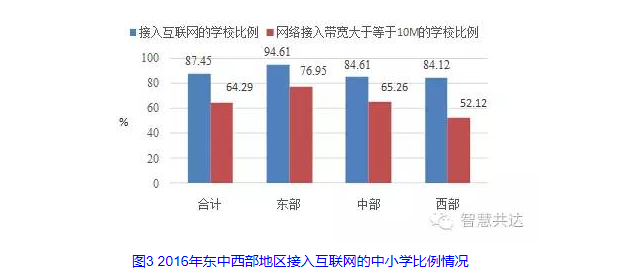 It is worth noting that there is also a large gap between the construction of the basic supporting environment of informationization among regions within the province, between urban and rural areas, and between schools. The construction level of rural underdeveloped areas and remote urban areas is low, and the construction level of central urban areas is high. The construction level of key schools is high and the resources are rich. However, there is a lack of equipment and resources in ordinary schools and rural schools, and there is still a big gap between the actual needs of education and teaching.
(3) The overall promotion mechanism still needs to be improved
The leaders of some local governments and education administration departments do not have a comprehensive understanding of the country's strategic deployment and key tasks of promoting education informatization. They still have insufficient understanding of the role of informatization, and the mechanism of overall promotion of education informatization has not yet been implemented. First, the 19 provinces have not yet formed an internal coordinating mechanism for the education administrative department, resulting in unclear job responsibility subjects, unclear responsibilities and insufficient coordination among the functional departments, and the lack of effective synergy in the promotion work, which seriously affects the in-depth advancement of education informatization; second Ten provinces failed to establish an inter-office coordination mechanism and could not effectively integrate the corresponding resources at the provincial level. Third, in the process of cooperation between education departments and schools and enterprises, there are still some issues involving institutional mechanisms that need to be resolved.
(4) The effective operation and maintenance of informatization need to be guaranteed
With the gradual advancement of the school's informatization construction, the operation and maintenance cost of the newly added informatization equipment is relatively high, which puts pressure on the school's expenditure. Due to the lack of effective operation and maintenance, school equipment failures and frequent damages, it is difficult to provide effective support for education, teaching and management informatization. Currently, education informatization funds in various places are still mostly projects or special funds. The costs for equipment operation and maintenance, update and upgrade, network tariffs, teacher training, resource purchase and applied research are lack of fixed and long-term financial support.
4. Supervisory opinions and suggestions
(1) Strengthen the overall planning and promote the system and mechanism
All localities should further establish and improve an education informatization co-ordination and promotion mechanism with leadership decision-making, leadership, and division of labor, and coordinate resources of all parties to ensure the completion of informatization to support education reform and development goals. First, the education administrative departments in various regions need to establish a unified coordination mechanism for functional departments to form a good situation in which the related functional departments coordinate and coordinate, the business departments advance separately, and the technical departments divide and cooperate. According to the needs of career development, in particular, it is necessary to organically integrate the forces of existing technical support departments to form a technical support service system that meets the needs of the work. The second is to increase the overall coordination among government departments, further improve the education and administrative departments at all levels to take the lead, and develop and reform, finance, industry and other relevant departments to jointly promote the effective coordination mechanism of informatization work. The third is to co-ordinate the investment of education informationization, and lean towards weak areas or schools to avoid the "digital divide".
(2) Vigorously promote application innovation and continuously improve the application level
Adhere to the basic idea of ​​application-driven promotion of deep integration, and continuously promote the innovative application of information technology in education, teaching and management. Focusing on solving problems in the process of education reform and development, focusing on the cultivation of students' core literacy and innovation ability, and on improving the efficiency and service level of education management, actively exploring new methods and new methods to use information technology to solve practical problems in education, teaching and management mode. The exploration of new models should start with pilot work, encourage regions and schools with information conditions to carry out extensive information technology application pilots, play a leading role in demonstration, and popularize and promote successful models and advanced experience. During the pilot process, we should focus on professional guidance and action research. We must provide expert support, provide professional guidance for the deep integration of information technology and education, and encourage regions, schools, or teachers to proceed from practical problems and explore practical solutions to practical problems.
(3) Cultivate the resource service market and widely share high-quality resources
Encourage enterprises to systematically develop basic digital education resources supporting teaching materials, promote the formation of teaching resources with local characteristics and school-based characteristics in various places, form a new mechanism for the continuous development and application of digital education resources, and gradually realize full coverage of basic resources and personalized resources Increasingly rich. On the one hand, the development of high-quality educational resources should foster the digital educational resource service market through "market competition + government subsidies". For example, a basic textbook publishing institution can work with teaching research institutions and excellent subject teachers to develop high-quality teaching resources supporting textbooks. . At the same time, the national and provincial levels should strengthen the top-level design and system deployment of resource system construction, focusing on endogenous resource construction, continue to promote the "one teacher, one excellent class, one teacher per class" activity, and increase application sharing. Gradually form a high-quality educational resource system with all disciplines and full coverage. In addition, it is necessary to actively explore a mechanism for setting the cost of purchasing resource services in the form of "digital resource vouchers" in the average public funds for students, and truly give the choice of digital education resources to the majority of teachers and students.
(4) Establish a sustainable investment mechanism to ensure effective operation and maintenance
The school's network teaching environment should be listed as an important content of the school's basic conditions and basic construction, and information expenditure should be arranged as a whole. All primary and secondary schools in various provinces should strictly implement and improve the standard quota of public funds for public schools at the stage of compulsory education. Effective operation and maintenance of facilities and resources. At the same time, the government's policy to encourage the government or schools to use public funds to purchase information services should be issued as soon as possible, and institutional arrangements should be formed for the daily operation and maintenance funds.